The OC&C Ringvaart Regatta is a 100 km long rowing regatta. The race starts in Leiden and goes over the Kaag to the North. It goes around the Ringvaart canal back to Leiden to eventually finish in Delft. The full route can be seen in the picture below. It was first organised in 1976 to celebrate the 100th anniversary of D.S.R.V. Laga. The first time only three boats participated in the race, but nowadays over 150 boats start the 100 km challenge. This year the OC&C Ringvaart Regatta takes place on May 29.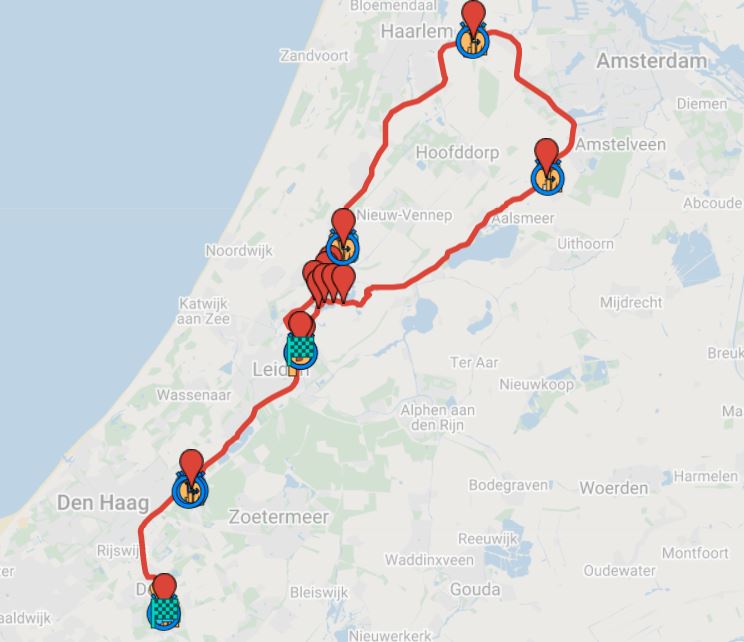 Along the route there are 5 stops with toilets and water supply. The distance between each stop is around 20 km. The last stop is situated at 90 km in Leidschendam. Here all the boats will be lifted out of the water by volunteers, since there is a lock that cannot be passed. After a stop of 45 minutes where rowers can get a massage, the last kilometres can be rowed to Delft. The finish location will be festive with music to celebrate the success of finishing the OC&C Ringvaart Regatta.
The last 500 meter will consist of a sprint competition. The times of all boat numbers will be converted to a percentage of the best time in that boat number, the boat with the lowest percentage wins the sprint. The same is done for the overall winner of the OC&C Ringvaart Regatta.
The registrations open March 31 at 12:00 and will close April 30 at 23:59. The registrations will take place via the site of the Dutch rowing association the KNRB. To register you first need to be a member of the KNRB. It is recommended to ask your rowing club to do the registration. The easiest way for them to do so is by sending an email to info@knrb.nl and mention that you want to row the OC&C Ringvaart Regatta and need a trial membership for your boat. This is only valid for three months so do not do this before the 14th of March.
Due to the rough water at the big lake the Kaag, it is possible that the race cannot take place on May 31 in case of extereme weather conditions. If this would be the case, the race will take place on the 12th of June.
There is also a rowing booklet availabe below with essential information regarding the OC&C Ringvaart Regatta. In this booklet, you can find information like: bridge heights, important contact information and sailing rules.
If you have any questions about rowing the OC&C Ringvaart Regatta, please do not hesitate to send us an email at ringvaartregatta@laga.nl.